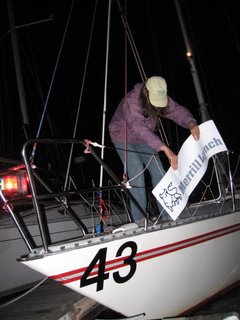 Getting ready. The holding tank is empty, the water tank is low, cruising gear is off... now the bow numbers go on. Bank of America just bought Merrill Lynch. Does that make us a "factory team?"
Much consternation about the weather and courses. Almost one hundred boats are entered. The weather is either going to blow or be calm. Depends on what a low and a weak hurricane do: stay along shore or move off. The Regatta Directors have designed two new courses that are in the lee of the land. Seems the wave heights in Mass Bay may reach 3 to 4 feet. Too much for the cruisers to handle. If so, we race around Peddocks Island and through Hull Gut.
The Race Committee is working on producing a good event for everyone. Lots of helpful communications. Supporting details are on the web and in email. Good stuff...
No matter, AVERISERA, Bow Number 43, is ready.
www.islandalliance.org/regatta.asp