The division of labor has Norm working outside and Elizabeth working inside. So, equipped with a selection of sandpaper, her trusty
DeWalt
orbital, pots of varnish or paint plus related accessories... the interior spaces get more home-like every day. Notably, the interior hull surfaces are painted almond white, large flat areas that are finished "bright" get satin varnish and the trim is finished with gloss varnish. The natural wood looks old, almost antique in some parts. It all looks better with a fresh coat of varnish.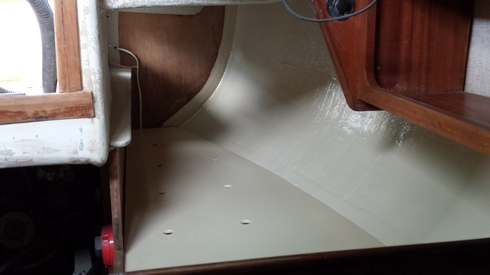 Above: In progress, the berth board and interior hull are both almond white. The varnish is awaiting a clear day for coating. The boat came to us with dark varnished berth boards looking worse for the wear. The hull was a mix of gloss white and some sort of off-white wallpaper.
A few years ago, we removed the honkin' big speakers and that let in a lot of light to the foot of the quarter berth. The five inch holes were covered with clear plexi. This step has made the space less of a cavern.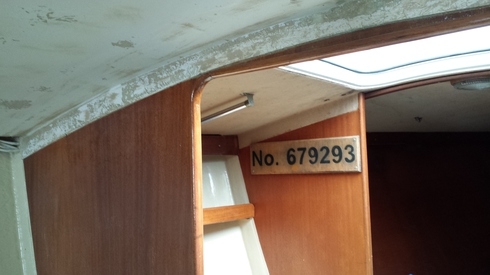 Above: A view of the forward cabin bulkhead, head area "hanging locker," and a glimpse into the forward cabin. Elizabeth has applied gloss varnish to the trim piece and will use satin varnish on the bulkhead wood. The overhead and tabbing are getting a new hull blanket before too long. The mouse fur story is coming to an end.
We use interior finishes from
MinWax
and
Rust Oleum
. We have used these products around the house and know their characteristics. The Helsman-brand varnish from MinWax has UV protection and is easy to handle. It is also about half the price of the marine store variety. Same story with
Rust Oleum
paints. They have good adhesion, are easy to use and don't cost much. The down side is the limitation of colors. Almond is OK and I don't know that we'd have really chosen a different one given more choices.
Averisera should be fun to sail, sail well, and comfy to live aboard. Those are our goals with this project that started oh so long ago.