June 2008
While AVERISERA struggled through the winter in New England one of her keepers (Norm) worked in the Caribbean. It was an adventure unlike the ones we have aboard our perfect little boat. Pictures help tell the story.
Anegada is a small low island surrounded by shoals and coral reefs that is part of the British Virgin Islands. It lies about 15 miles from North Sound, Virgin Gorda. A few years ago, before GPS was ubiquitous, special permission was required of charterers to visit the island. Now, the charter companies have a breakfast briefing for the crew planning a trip out for the first time.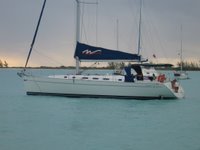 These charterers found Anegada. Then, notice the mooring pennant off the port bow, fouled the mooring line in the keel and lay sideways to the wind. No problem! Let's have a rum drink and bath naked off the transom. Aboard my boat we did not enjoy the view. The next morning, the boat was gone and the mooring pennant chafed through. We checked.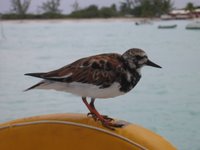 A number of these little birds come aboard each visiting yacht and beg scraps. I understand they are Ruddy Turstones, a shore bird we also see in New England.
Fouling stuff isn't all that uncommon. On a trip from Antigua to Dominica we found a bit of fish net one evening. We were motoring at the time across a flat calm sea. The engine shut down suddenly. We determined the problem but would do nothing about it at night. Slowly we drifted towards Dominica. I have a prohibition against drinking under way but the guys broke into the rum locker and had a few after I turned in. Now we couldn't maneuver and the crew was drunk. Great life being a yacht skipper!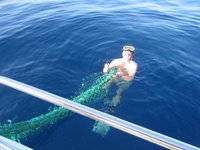 At dawn one of the fellows cut the net and unfouled the propellor. We made it to our anchorage without further incident.
Dominica is an interesting place. It is very poor in cash but rich in natural resources. Also, being a wet island, fresh water and fresh foods are readily available.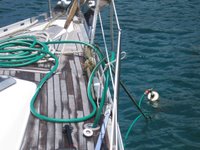 The water supply for yachts is managed by Jan at Big Pappa's Restaurant. One goes ashore, finds Jan (never a simple task) and contracts for water. We motored over to a tiny buoy that had a faucet at the top. Jan came along with the hose shortly. Begging us not to kink the hose or turn off the faucet, left us to fill tanks, wash the deck, and do some laundry. His big concern, "Hoses are harder to get on Dominica than fresh water." Memo: bring Jan a hose next time.
A common question is, "How big a boat should one have for cruising?" The common answer is, "I don't know." I saw some very small cruisers.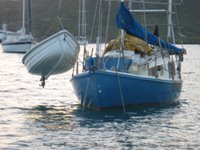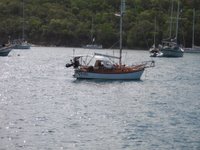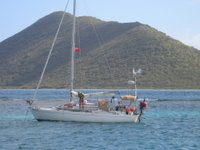 Little boats almost always make the trip to the Caribbean on their own.
Some folks take a different view of cruising. Big boats come in all styles from classic ketches to modern racing boats converted for voyaging.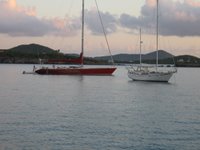 Many now travel the world in ships specially designed to carry yachts.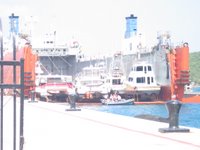 One of my best memories is of a french family, mom, dad, and the three little kids all on a 30 foot converted ocean racer. They sailed over from France and cruised the Caribbean. I met them as they were preparing to head home.