One of the things about Fall is the sharpness of the light on a clear day. Come to think of it, the wind is pretty sharp, too.
The top image is from a late Spring day. The wind is strong but the shadows are soft.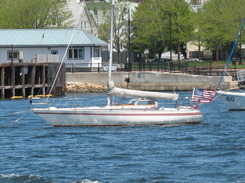 Views of the boat from out on the mooring, Elizabeth on the dock, and finally, in our Winter berth at Admiral's Hill Marina.
Soon, we must unload the gear from the boat, clean her carefully, winterize systems and make a winter cover. Along the way, we make new friends at the marina.
Will we make it out to the New year's Day Regatta?