Our original starter motor was a randomly operating device. Seemed to have a
"Flat Spot."
After years of putting up with the annoyance, we replaced the starter. Yes. We know. It should have been done last month when the engine was on the bench.
We went over to New Bedford, MA and bought a new one. Son Zachary directed us to Niemiec Marine on Pope Island for the part. They had it on the shelf. For about $400, we got it off their shelf and into our car.
Back at the boat, we had the old one out and the new one in within a half hour. Once we got the right tools in hand the job was simple. The job called for a 14mm socket and 7 inches of extensions between the socket and ratchet. See the bolt-head in the center of the picture? That one and its mate on the other side graced us with easy removal. After a few hours of engine operation, we will tighten the bolts again.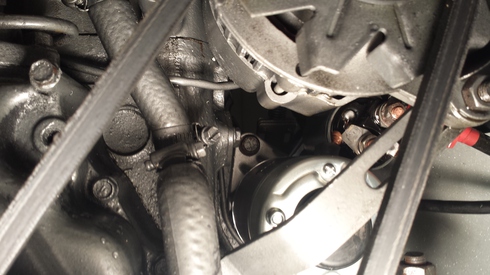 The engine fired right up faster than ever before.