August 2018 Archives
Norm did a sail-training cruise last week leaving from Jamestown, RI aboard a ten year old Beneteau 43 three-cabin model. The trip consisted of a five day cruise to Vineyard Haven, Cuttyhunk, and Dutch Harbor with some intermediate visits. The crew of a couple and a single fellow handled the boat well.
A few pictures from then trip.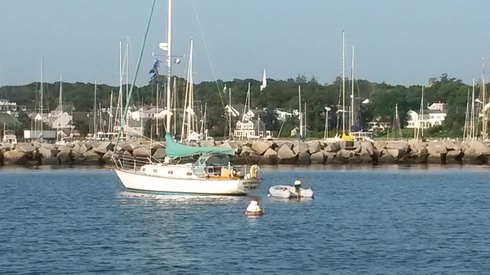 View from the outside mooring area in Vineyard Haven. The inside moorings are operated by the town and charge $45 per night. The outside mooring we used is operated by Gannon and Benjamin Boat Yard who also charge $45 per night. A launch services both mooring fields so no dinghy is required.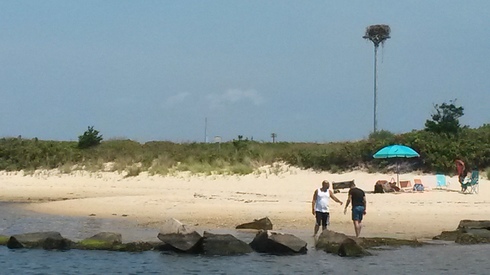 We went over to Oak Bluffs to fuel and pump out. This is a picture of the beach just inside the entrance cut. I think our grandkids would love to dinghy back and forth between the yacht and beach to "beachcomb." That is an osprey nest on the pole. It is active with a family.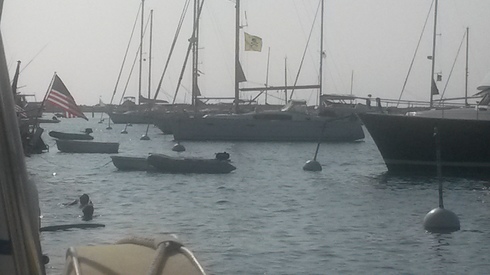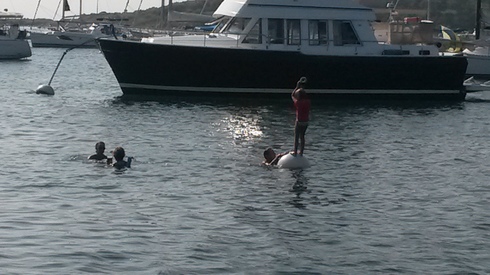 The two pictures above are of the inner mooring field at Cuttyhunk Island which is part of the Elizabeth Islands. The mooring area is very tight and everyone seems friendly. A boat load of kids found that playing on the mooring was too much fun. They quickly invented a game of king of the hill. We enjoyed watching.
Moorings here are $45 per night. Services ashore are limited but the hikes are superb. Cuttyhunk is a "dry island" so BYOB. One of the shore party reported a full lobster dinner delivered to your yacht at $45 per meal. Next time...!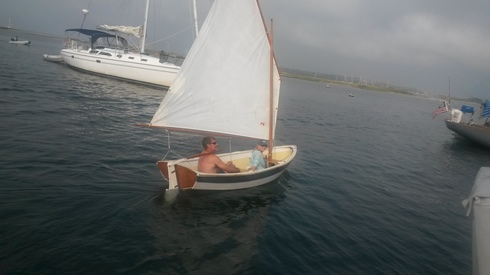 We met the nicest couple from Salem as they sailed by in their Joel White dinghy. We chatted alongside our boat for a while. I talked CLC Boats, harbors and cruising areas we both knew and love. This was their first trip to our sailing area. Once upon a time, Averisera was well known in their sailing area. It was good to hear about our former home waters.
Notice the light fog?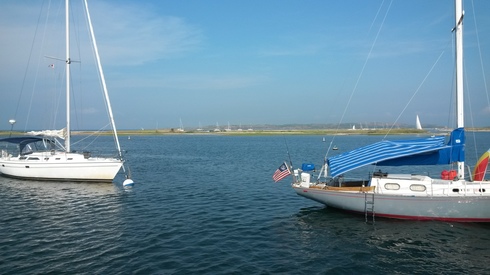 Eventually, the fog cleared. Not to worry, it returned the next day and brought some lightning squalls. We departed for Dutch Harbor that morning and had a nice sail.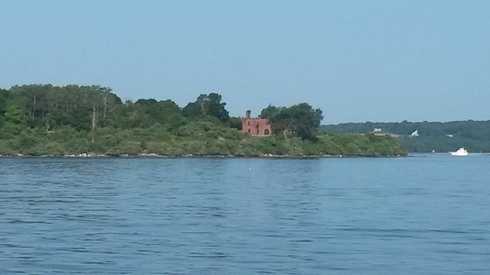 The house ruins on Dutch Island. There are tick warning signs all around the island. We did not go ashore.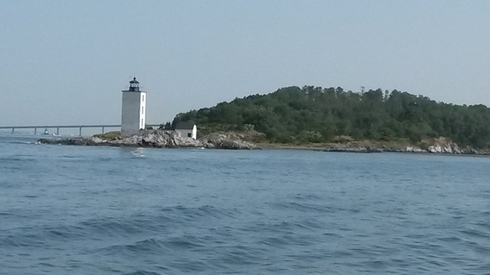 The lighthouse on Dutch Island's South end.
One of the things Norm noticed is that the islands of Martha's Vineyard, the Elizabeths, and Natucket are set up for cruising yachts with families. Narragansett Bay is beautiful sailing and has nice anchorages but it is hard to go ashore and wander. Lots of private property. The islands south of the Cape are a cruising playground.