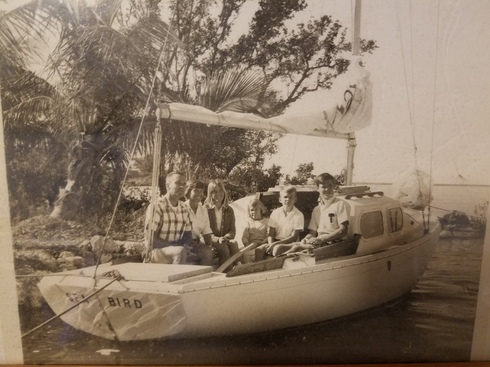 Plantation Key, Florida Keys in 1965 or maybe 1966. I think. Dad, mom, Muffie, Patience, Bobby, and Norm aboard the Columbia Contender "Sea Bird." The cove is at my grandparent's home on Plantation Key. We lived at St Andrew's in Boca Raton and went down as often as we could to sail out to the Cowpens and other distant mangrove keys. Mom grew up in there during her pre-teen years when she and her mom and dad lived aboard a boat before the house was built.
Way in the distance is where the fabulous Plantation Yacht Harbor was built. At this time there wasn't much going on though we liked the pool a lot.
A recollection is that dad offered me a boat of my own (my Comet, #1986) if he bought the Columbia or we could get an Ensign and sail out of Coconut Grove SC and race. The choice we made is obvious! Now, how many years later, I have an Ensign. Both the Columbia and my Comet are long gone.