August 28th, Irene strolled by Boston. Not bad as storms go. Averisera was prepared by having the mainsail stowed below and the canvass dodger removed.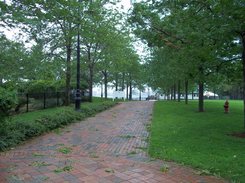 Scenes from the hurricane Irene preparations. We doubled up on the mooring gear for Averisera. Afterwards, grandsons, Luke and Marc played in the Park. The view of path and trees is during the storm. The Park is gated and was locked on Sunday the 28th. Norm could not go for a closer look.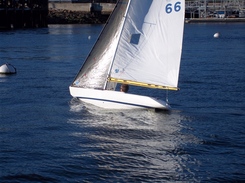 Piers Park Sailing Center
has a Mini 2.4 which the sailing instructors love to sail. Maybe the coolest boat toy ever devised.