At 3:40am we were at 10 Mile Ledge, where the quick red is NOT lit!!
| | |
| --- | --- |
| | Hints of sunrise in the early morning sky! |
| | Pretty scene on the way into Boothbay |
By 6:30am we were tied up at the fuel dock of Carousel Marina.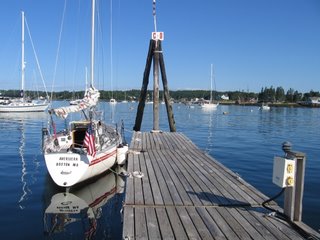 They gave us a spot on C-dock, we freshened up in the immaculate bathrooms, put on our tourist costumes, and set out to explore and find a breakfast spot. So where do you eat breakfast in Boothbay? Mama D's of course! After a stroll through town, and some necessary purchases (postcards, playing cards, refrigerator magnets, and one more bird book), we headed back to Carousel for a well-deserved nap.
The plan is for lobster dinner ashore. We headed out again for a nice walk down to the Boothbay Lobster Wharf, for a down-east lobster boil on their open deck.
| | |
| --- | --- |
| | |
| | |
| | You don't want to lose your dinner to these scoundrels! |
We enjoyed our wonderful lobster feast, along with an unexpected rain shower, and the most beautiful rainbow afterwards!
The rest of the evening was spent playing candlepins at Romar's, where Norm beat the pants off me, and then we had the required celebratory ice cream, before walking back to Carousel. Exhausted, we were asleep before our heads hit the pillows!