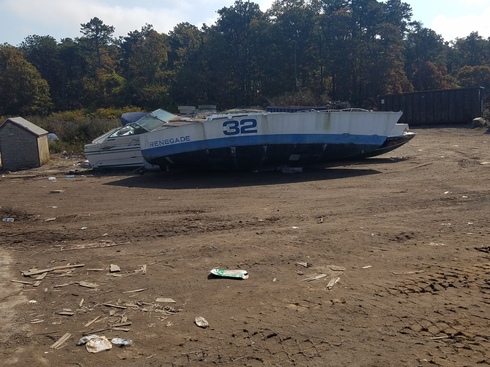 In 1993 I raced that boat back from Bermuda with the owner, Jim More. We won our class in the double handed division of the Bermuda One-Two that year. Well... looks like her racing days are over as the old barky rests in the Harwich dump stripped of her gear.
Back in the 80s I raced an Olson 30 out of City Island, NY and Renegade was one of our friendly competitors. I suppose that many of the boats we raced against have similar fates.
Fast Forward: A few years ago, I spotted her in a boat yard lot near Harwich and went in to pay a visit. Sort of like old friends visit ing but I could tell her soul was gone. Sad. Last week, I saw her over at Karl's BY where I gather she was stripped and made ready for scrapping. Nothing lasts for ever and even my memory of the event is drifting away.
Happy news though as it seems Averisera has a new owner and renewed life awaiting. More to follow.