Thursday before the Friday arrival day at Hyannis YC we sailed to the Club and picked up a mooring. Trying to, and succeeding at, beating the Friday rush. The wind was from the East at 20 knots with some nice puffs in the low 30s. Our course was due West. What a slide. Averisera rolled along at 8 and 9 knots with occasional 10 and an 11! Two reefs in the main. Slippery bottom. Of course it was raining and foggy.
Norm at the tiller loving every minute.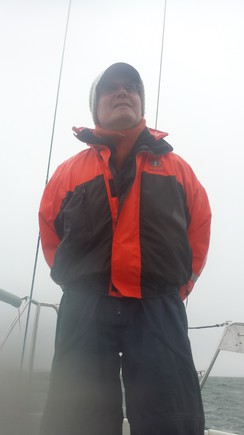 Hardings Light at the entrance to Stage Harbor, Chatham.
Noodles for the rail to comfort our crew's legs.