Finally! This past weekend, we spent all day Saturday, hanging the final 11 doors, and touching up paint. And we started unpacking the boxes of kitchen goods that were stored in the sunroom. Saturday we turned on the radiant heat flooring for the first time. What a great heat source! It was so nice to have toasty toes and Norman's bare legs soaked up the heat. I am still in fleece and jeans; Norm is a summer early-adopter.
Our little kitchen table got moved back in. We added two new fasteners to close the gap between the two sides. And I polished all the stainless steel, which always comes up beautifully.
Sunday we spent the whole morning unpacking the boxes and stowing the kitchen. Then we visited Averisera, and futzed with the installation of the head. Which meant two trips to West Marine. For dinner, we cooked a lovely meal.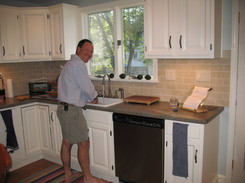 Avocados on the windowsill. Recipe in the recipe holder (shrimp with kale and white beans on toast). Towels hanging at various convenient spots.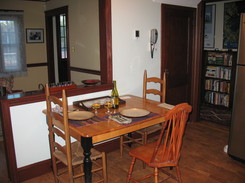 Still to do? Under-sink pull-out shelf systems. The mudroom painting and finishing. Stripping and painting the 15-light backdoor. Touching up some more paint holidays. Painting the dining room. Painting the hallway, stairway, and second floor hall. And putting the stuff away in the basement. Not too bad a list.
We are so so happy with the kitchen! I almost wish the weather wasn't warming up, so we could really enjoy our new radiant heat. We'll just have to wait for fall.