11 and 12 August 2007
Team Averisera ventured to Portsmouth, New Hampshire for a turn at being Race Committee for the Smuttynose Regatta. The regatta is named after a sponsor, the local Smuttynose brewery, which is named after the local Smuttynose Island.
Norman and Elizabeth drove up from Boston, and stayed with a longtime friend of Norm's, Tom Brown. Averisera stayed home. A plan to sail up was canceled as we couldn't find a place to park the boat.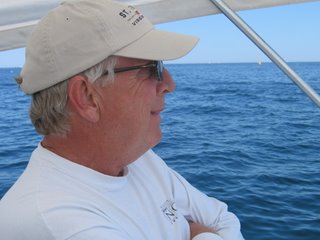 Tom Brown, Principal Race Officer and sailing pal of Norm's since 1987.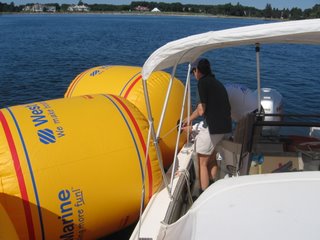 Elizabeth secures racing marks to the committee boat after inflating same.
With four buoys lashed to the boat we looked clownish. To make things more "amusing," the anchors and rode for each buoy took up valuable walking space. With the boat bobbing, anchors rolling around, buoys bouncing, the crew must have seemed like a bunch of clowns. Happily, we usually enjoyed those moments in privacy.
The RC boat was a 22 foot Mako loaned by the Great Bay Marine folks.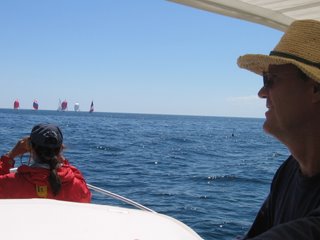 The weather was perfect, camaraderie excellent, and it seems we did an OK job as RC. All good. Fact is, it is a lot of fun to watch a sailboat race. We got in four races each about an hour long on Saturday. There were three under an hour long races on Sunday. The crews were pretty tired but happy about the quality of racing.
From the Race Committee's point of view, the sailors were doing a good job working the course. It is interesting to watch the fleet and critique tactics. For a few minutes after the start, boats are clearly identified. Halfway up the course, about a half mile away from us, they lose their identifying characteristics. Then, at the top mark, we awaited spinnaker sets. The kites are different enough that we could put the fleet into some sort of rank order and speculate about the downwind strategies. Never a dull moment.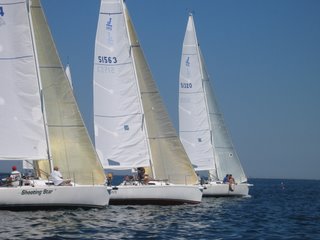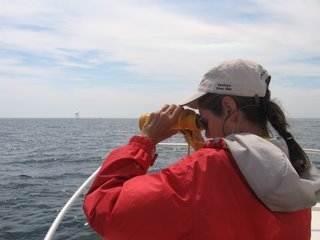 The big asset in this entire adventure was E-cubed... Eagle Eye Elizabeth. Who knew she could read sail numbers, memorize kite colors and figure out the order of finish while conveying the information to the scorer? New binoculars for her next year!
Scoring the finishes was sometimes very wild. Boats converge on the start/finish line from both directions as they finish downwind. The starboard gybe boats headed straight at the RC boat... that's us... at six or seven knots. Bow waves rumbling, crew shouting instructions that turn the boat closer to us. RC stands calmly recording the order of finish. Things are fast at the finish. The starts were slower and more orderly.
Next year we plan to return to the RC job. It was a howling good time. Team Averisera picked up some racing skills by watching and analyzing the fleet's maneuvers.
Thanks Tom for your hospitality!