Updated March 18, 2012
Boston Sailing Center
friend, Mark McGann. It is a few years old but still a special picture. Averisera is an
Aphrodite 101
.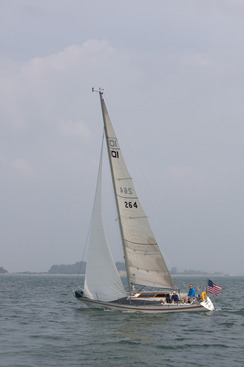 What's the plan for 2012? Do we go out and repeat the Mass Bay Pursuit Challenge? Maybe finish first and get a battle flag? The dates and events for 2012 are:
Or, shall we go back to the distance race plan. The one where Elizabeth and I (Norm's writing) cruise to and from various destinations and race double-handed? The dates and events are (aproximately):
Not to mention the Wednesday evening series run by Constitution Yacht Club on Boston's Inner Harbor from May 16 through September 12.
More to follow!