This has been a slow summer for sailing and racing. Averisera got out for the Cottage Park YC "Make A Wish" and the Flip Flop Regatta. Nothing much to report aside from having pleasant sails on the harbor. August 17 Eastern Point and Rhumb Line Rest sponsor a 17 nm race off Gloucester Harbor. Averisera went but without the chief cook and bottle washer, Elizabeth.
No matter, the wind died. Four boats of 17 finished. Averisera was in 5th place, Amazing Grace was right behind us. The wind died completely as the adverse current built.
The story of the weekend is really around the engine. Thumper (our engine) is in need of some love. I have to clean out the fuel tank, change filters, While I am at it, degrease the engine and paint are called for. All of which is the long way of saying, I got the motor running long enough to motor sail up in a light breeze the Friday evening before the race. Saturday and Sunday the engine wouldn't run. I sailed home on Sunday. It took all day. The breeze was light and from the NE or SE.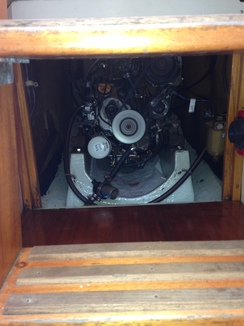 Thumper thumping along before departure for Gloucester.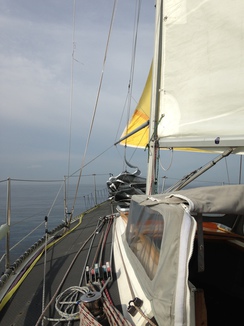 Departing Gloucester on Sunday after the EPYC Ocean Pursuit Race. Wind was very light and really too far forward to make much of the spinnaker.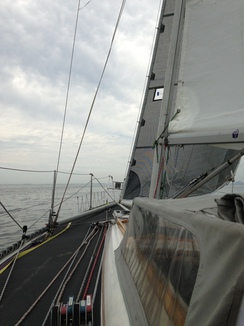 Sunday after the EPYC race, still very light air which slowly filled in by afternoon. The kite was replaced by the new jib which works very well going to windward!
I long sail is a pleasant thing, Very quiet and pleasant until the entrance to Boston Harbor. It almost got me sea sick with the chop,noise, fumes, and light intermittent wind. Anyway... home safely and starting to show Thumper some love.