We proceed slowly and purposefully. We received the
box-o-boat
right after New Year's Day and started putting her together a few days later on 6 January 2016. Today is the 26th of February so some 50 days of calendar and 19 days of pushing the project forward.
Today was for installing the breast hooks. The epoxy has to set up for a day or so in our cool basement and then we'll install the rails. Tomorrow, we'll get the clamps needed for that task while the epoxy cures.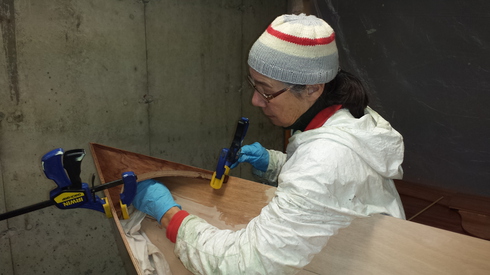 Elizabeth cleans up some runs with a rag and alcohol. The entire operation only took a few hours from start to finish with most of the time spent in fitting the parts, drilling the screw holes, checking the screwed in fit before epoxying. One mistake but no one will ever find it.
Meanwhile. Doing some research on the Skerry and I found a site by a fellow to whom I have written. He lives nearby and built a Skerry last year and sails it nearby. Also saw an article in All At Sea magazine about a school-built boat on St Maarten where I spent a lot of time when I sailed full time. Then, there is a fellow in Miami who is building a Skerry now. He is about 100 hours ahead of us and I note his tips with interest. The links to their sites follow:
Lest we forget the deep water boat, Averisera. Love that deep keel. The picture is from our Boston days and she is about to get a coat of bottom paint before launching and delivery to Cape Cod. The notoriously shallow water of the Cape limits our use of Averisera.