After the CYC Awards brunch, I hopped in the car and drove down to the Cape to visit me mum. My sister-in-law, Kathy, was also going to the Cape, so it would be a nice visit all around.
| | |
| --- | --- |
| Kathy | Mama |
| | I brought my sextant along, to play with down at Bank Street Beach. |
On the way to Bank Street, we took a detour by Wychmere Harbor. I was surprised to see so many sailboats in the harbor. For one, it was November and boats are pretty much in their winter beds. Another, we are under the impression that a deep draft boat cannot make it into Wychmere. Just to prove that there are large sailboats in this harbor I took some pics. Hey, Norm, what do you think about going into Wychmere next summer?
| | |
| --- | --- |
| | |
| Wychmere Harbor just before sunset | Look at all the sailboats in this harbor. I think Averisera would be able to get in. |
After our brief stop, we drove over to Bank Street Beach. Kathy and Mama took a walk along the water's edge, while I futzed with the sextant. After fooling around for a while, I started to get the hang of it. I realized that I needed to follow the directions to adjust it first. But it was fun just to see how it worked and align the images. I read that it takes about 1000 shoots before you really start to feel competent. So I'll adjust it first and then make time this winter to practice.
When we were planning our offshore jaunt last year, the trip from Boston to the Caribbean on Easy Go, we bought this sextant, a Davis Mark 25. The idea was, since we were to be at sea for 2 weeks, there would be plenty of opportunities for taking sights and comparing the calculations to the GPS. Unfortunately, the weather and my injury dampened our enthusiasm for celestial navigation, and the sextant didn't come out of the box until almost exactly a year later.
Here's a picture of the sextant.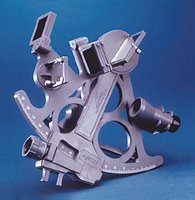 It is the top of the line, plastic sextant. Better quality sextants are made of metal, preferably aluminum or brass. But for learning, this sextant should be more than adequate, and it is also a good backup system for offshore passagemaking. I just have to learn how to use it, and care for it.
After about an hour, watching the sun set and the stars come out, we abandoned Bank Street for the warmth of a nice fire, a hearty meal, and good conversation. The next day, I drove back to Boston, to attend Symphony practice, which is held on Monday nights, without regard for the holiday.