September 25th was the
Boston Harbor Islands Regatta
. It is a "pursuit" type race around a number of the Harbor Islands. Almost 100 boats participated. There were two divisions, spinnaker and non spinnaker.
AVERISERA
, led by skipper Elizabeth Lamb, sailed in the spinnaker division to finish fourth in class and 13th overall. Our fleet finish is ironic as we were bow number " 13" as well.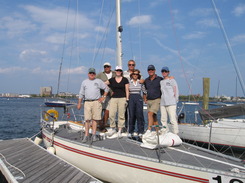 Crew of Tom Brown, Francois Asselin, Tara Knowles, Vasily and Nelli Gusev and Norman and Elizabeth pictured at the
Boston Sailing Center's pontoons
. The day started with the promise of lots of wind. There was enough, about 10 to 15 knots with gusts to 20. The sky was blue and filled with puffy clouds. Fair weather and flat water. Perfect sailing.
Constitution Yacht Club
fared well as the best represented club and as the club with the best finishes. Richard Tubman on
CHARISMA
finished first in Class E, non spinnaker. He was 16th in that fleet.
Special mention has to go to two boats, CLUB CAR, an S2 7.9 that finished second overall, and RUFFIAN, a J30 that finished fourth overall. Credit goes to two boats that finished way up in the pack, Typically, in PHRF Pursuit Races the last starters are the first finishers... or thereabouts. The top dozen boats have ratings from -9 to 108. The S2 rates 168, same as a J24. A J30 rates 150 and our Aphrodite 101 at 13th, is a 135 rater. Pretty slow boats to be mixing it up with a collection of boats with ratings mostly under 100!
Looking forward to 2011
Pictures from the finish area. Plans for pictures during the race fell apart quickly. Elizabeth was busy being skipper and kept the crew focused.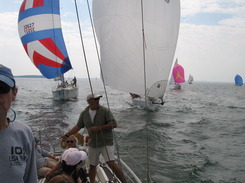 A picture of the finish looking aft from
AVERISERA's
foredeck. The Henderson 30,
HEART OF GOLD
from CYC has just rolled the C&C,
MOJITO
, also from CYC. Had the race gone another 1/4 mile, the Henderson would have rolled us for certain. Fast boats. (A story for another day but our friend Ryan delivered an H30 from Trinidad to Barbados by himself in 2006. Brave man and a great sailor.)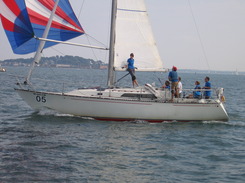 MOJITO, a C&C 35-3 from CYC owned by Tim Goodyear crossed just astern of us. After dueling all year in the Wednesday night series, it was remarkable to be able to hold them off. It is due, I believe, to the Henderson 30 kite blanketing the C&C. We were able to stay just out of the Henderson's wind shadow. Regrets to Tim and crew.
PHRF Pursuit Race tactics are still a new topic of discussion. It is hard to attack a slower boat which is ahead and defend against a faster boat sailing up from astern. Clear air rules. One must look way, way down the track to find the clear air lanes and way way back to keep clear air lanes. Big rigs have a lot of advantages. More discussion on this later!
Awards dinner tonight.