Norm here. I had some time in the BVI a few weeks ago to binge watch YouTube on cruiser/voyager topics. I focused on the discussions between the catamaran proponents and monohull advocates.
Just for the record, Norm is a mono guy and, even worse, a skinny mono guy! A very good sailing channel on YouTube is Patrick Childress Sailing aboard his Valiant 40 sloop, Brickhouse. Lots of useful content about voyaging any type of vessel. His happens to be a monohull.
A channel on YouTube, Sailing Zatara is worth viewing. A family buys a monohull for an around the world voyage and halfway along switches to a multihull. You must watch the channel to get the whole story. Basically, they needed more room and a more stable platform. Their story is worth the time it takes to view.
I recently sailed a new Lagoon 450. Some pictures and comments follow.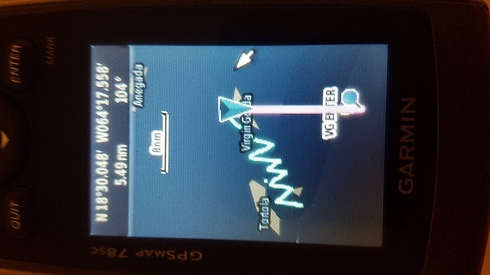 Wide tacking angles! maybe 150 degrees? We tacked up the Sir Francis Drake Channel from Norman Island, upwind and upcurrent. It was a pleasant sail with little forward progress after 5 hours so we switched into the Yanmar gear and motored to North Sound. The sailing of the cat was fun and fast. Most cats are observed sailing for a few hours and then motoring in to harbors.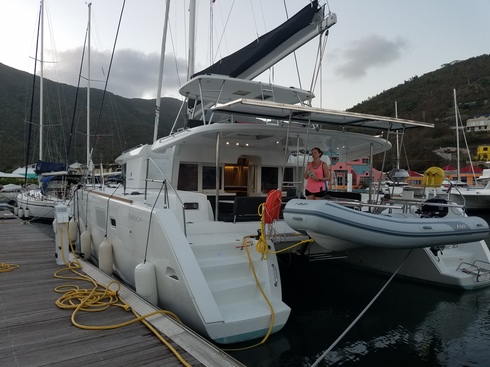 The boat is 45 feet long and 24 feet wide, draft is under 4 feet. The yacht is comfortable for living aboard, entertaining, lounging, and taking in the Caribbean scene.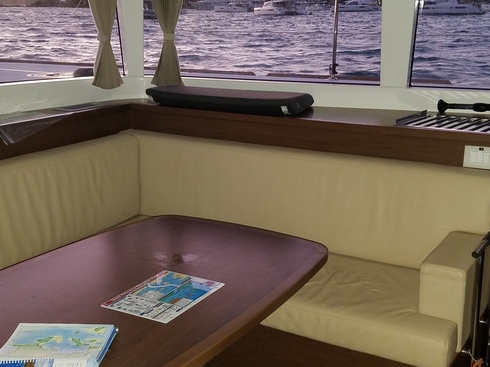 One corner of the main salon. The galley area is aft, behind the picture and runs the full width of the salon along the back wall, so to speak. Opposite the dining table is an office table/navigation station. The bridge has a full suite of navigation screens and electric winches.
Cats are spacious. The little bedroom (shown) has a dressing area, ensuite toilet and stall shower, hanging lockers and many electrical outlets for 12v DC and 120v AC along with nice lighting. The salon was gracious.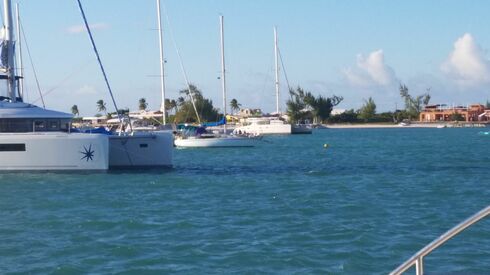 In almost every anchorage the ratio of cats to monos is 2 to 1. That is Anegada Harbor off the Potters Dock.
So... what is the story with monohulls? Well, they sail upwind better. They heel. For a given length, they are pretty small. The Beneteau 44 we use, No Regrets, is a very nice boat and about half the size of a 44 or 45 ft cat. It, too has three cabins and three heads. everything is just smaller. Some pictures of the boat.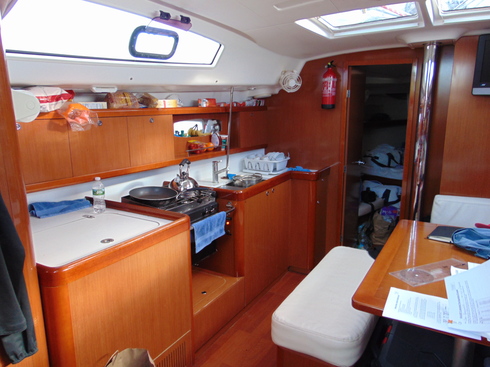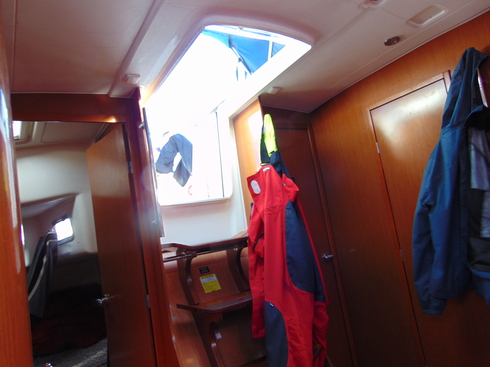 Standing in the same place looking forward and looking aft. Nice boat, fun to sail on the ocean.
What does Norm like? (I knew you'd ask.)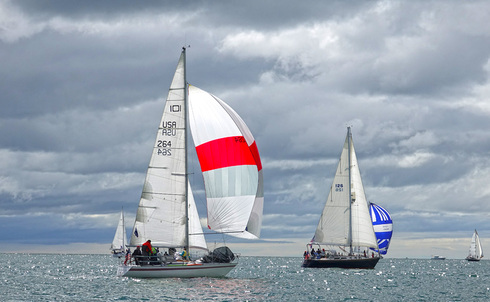 The one on the left is our baby. The jib of a leeward boat is visible and looks like a staysail on Averisera. It is not! Thanks, Spike, for the picture.