This winter we left Averisera in the water. Each month, I went down to the boat yard and scrubbed the bottom. That helps a lot. Finally, the boat makes it to Piers Park and her summer mooring. Alongside the pontoon, I went to work with the brush again. Got the bottom pretty clean. The starting point is shown... a brown smudge from stem to stern.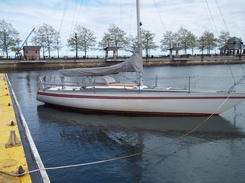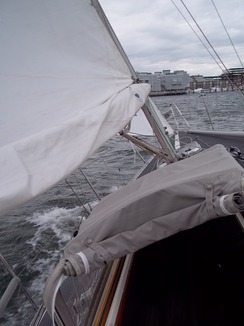 My reward was a sail on a blustery day. The old Diamond mainsail was still rigged. We had been out for a New Years Day drift and did not remove the sail afterwards. With a reef in and the small, 77%, headsail off we went, Averisera and me.
Other Spring 2011 images include some calms and some squalls.