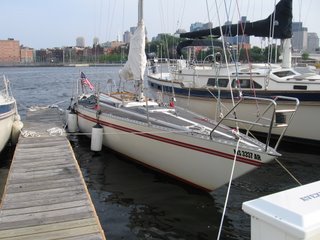 The boat is clean, the gear is in good order, and the weather looks promising. Time to go sailing?
Last minute "things" are putting our personal gear aboard and doing a little food shopping. Elizabeth hopes to have a small repair made to the new 3/4 oz kite and the old sail cover. Norm polished the smooth gelcoat on deck today and wiped down the interior of various lockers with white vinegar.
Two pictures:
1. AVERISERA in her berth.
2. A few weeks ago, I got into Gloucester on a foggy morning while doing a training program on INVICTUS, the C&C 40 operated by Boston Sailing Center. The image shows the famous old and crumbling Gloucester Sea jacket Paint Manufactory building on Rocky Neck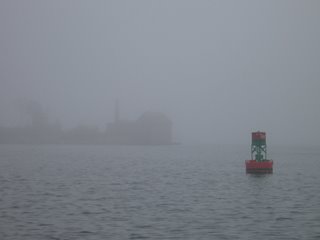 No fog or rain advertised for this weekend. But, this is New England and we'll be ready.