Sunday of Memorial Day Weekend was the big day for Zeppelin, the Skerry! And for Norm and Elizabeth too! Hard to believe that Zeppelin could make the transition from project to sailboat! Nightmares of the strakes exploding, the boat turtling, the copper wire holes springing leaks; did not dissuade us from driving her to Round Cove and launching her at the boat ramp there. Good friend Tom, who was visiting, took pictures and swooned along with us as we admired our handiwork.
Floating upright! Still dry in side!
I took her for a row around the mooring field, while we waited for the grandkids and family to arrive. She rows really beautifully, slips through the water with nary a ripple. Not so easy to turn her. She definitely wants to go straight and keep on going. My rowing is still amateur level, so this will be something I can improve.
Back at the dock, we rigged her for sail. The grandkids couldn't wait to get on board. Z took command of the tiller.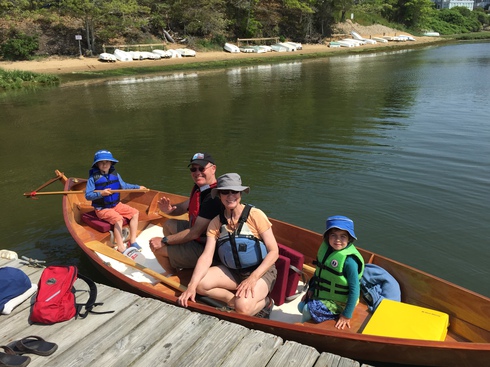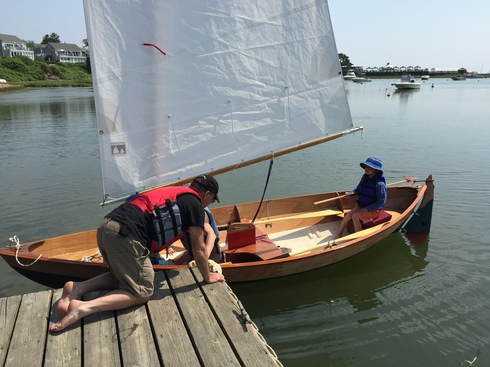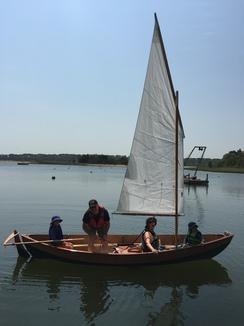 Headed out to more wind, and took a turn around the mooring field.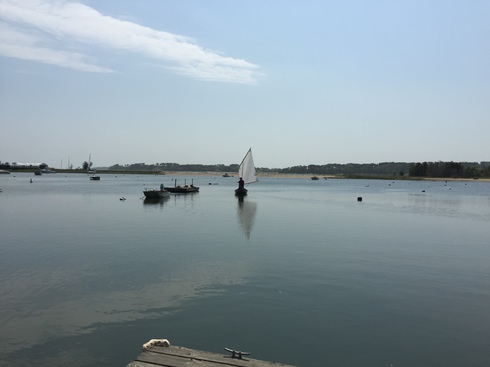 Everyone got a turn in the boat. Tom went out last, and he and Norm noodled out a better tiller extension/tiller connection. Still a work in progress. Now it is a piece of 5/8" line through both holes, with stopper knots on either side.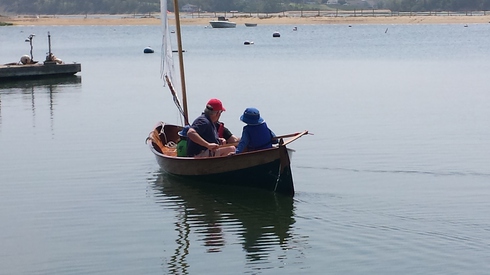 After all this practice sailing, it was time for a beach plan. Norm and Elizabeth took the two kids in the boat out the channel, across the bay, and anchored her off Jacknife Beach. Tom headed back to Kittery. The parents went to get lunch for everone at the Corner Store. Zach and Tab went home to get beach chairs and umbrella. We all met up on Jacknife Beach and had a lovely afternoon.
Around 2, Norm and E sailed the boat back to Round Cove, and trailered her home. We had to begin the prep for a big family dinner at Grandma-Norm's.