COURSE 3
-
Inside Course with two Clockwise Loops
From the Start heading SE through Hull Gut Leave to Starboard: Peddocks Isl and Harry's Rock "Birdcage" FL4s "HR", RN"6" S of West Head Long Isl near Bridge, Leave to Port: RN "4" S of Bass Point Long Isl, Leave to Starboard: GC"1" Nubble Channel E of Long Isl, R"10A" Bell S of Georges Isl; RN"2P" Quarantine Rocks, Inflated Mark just W of RN"2P" marking 2 foot spot S of Quarantine Rocks, RN"6" S of West Head near Bridge Leave to Port: RN"4" S of Bass Point Long Isl Leave to Starboard; GC"3" N of Rainsford Isl and Finish Buoy. (Note: Fleet 1 and Fleet 2 have different finish
lines)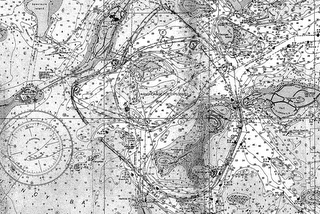 AVERISERA sailed in the 2008
Boston Harbor Islands Regatta
. It is a 14 nm race around some of the Harbor Islands. Skipper Elizabeth Lamb finished
Third in Class B
and
tenth out of twenty nine
in Fleet One. Forty seven boats registered to race in the spinnaker fleet, Fleet One. Thirty eight yachts started and nine did not finish. It is a good finish for a boat of our size and type. Good sailing Team Averisera!
The Start was just West of Georges Island, down through Hull Gut...against the strong current..., around Peddocks, across to the Long Island Bridge, up to Nubble Channel, back to the south end of Georges, around Rainsford Isl. to the Bridge again and home to the start/finish line. About 14 nautical miles of sailing and thirteen marks of the course sailed in two hours and fifty two minutes.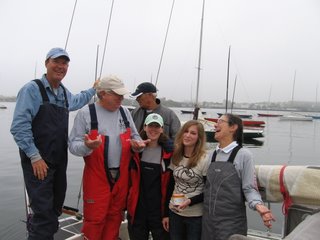 Crew of AVERISERA gather for a photo while at the BSC docks on the morning of Saturday, 27 September. Norm, Tom, Francois, Tara, Stacy, and Elizabeth raced in Fleet One, Class B... Spinnaker boats with PHRF ratings that fall between 135 and 108. The wind was light and the sky overcast except when raining buckets and foggy!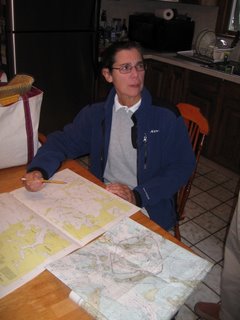 Elizabeth was not only skipper of record but skipper of fact. Preparations included studying the charts, course options, currents and weather. Here, the Captain, is doing a pre-departure check with Tom Brown and Norm Martin. A big tactical component in this race was visibility. There wasn't much. At times we could see no farther than 0.2 nm ahead. Preparations paid off for AVERISERA. Elizabeth kept the boat on the course and in the front of the pack. E was a busy lady for three hours!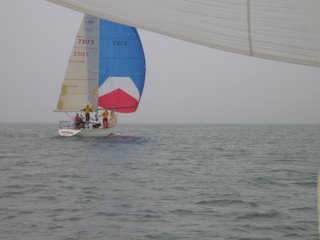 Class winner, WILD THING, passed us near Red 10A off Georges Island after nine miles of sailing and with almost six miles to go. Rating 108, the Frers 33 started five minutes behind AVERISERA. The other Frers 33 finished four boats behind us. Congratulations WILD THING.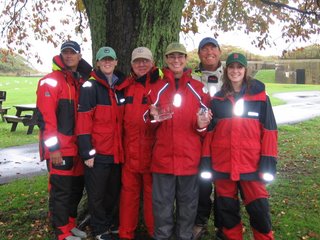 Team photo after the regatta awards ceremony.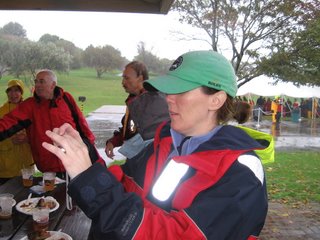 Tara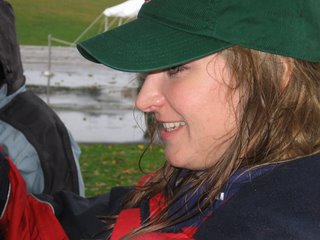 Stacy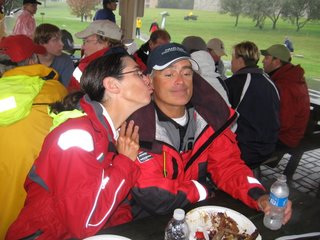 Elizabeth and Francois. Four seasons ago, novice Elizabeth stepped aboard a Soling on a wild day in May and started learning to sail under the guidance of Francois. Good work, team.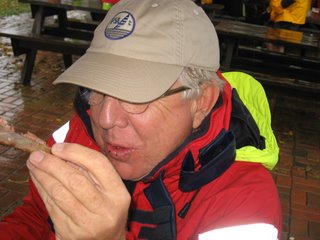 Tom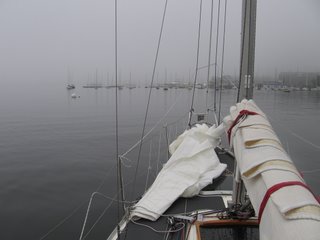 Rain, fog, and light wind. Promises of strong winds proved unfounded. Lots of fun to sail with friends who sail so well.