We have some pics from an A 101,
Elixir of Seattle
, sailing. Another thing about living out there is year round sailing. Here on Cape Cod, we are not so lucky. In fact, we hear forecasts of snow inland.
OK Seattle folks, Mt Baker has snow year round but that's not the same thing. In addition to the Elixir guys being out sailing, I then got word of the 101, Blue Max, being out under sail. More on that later. We are comparing notes about main sheet travellers. They do a lot of DH so we'll be talking that, too. Aphrodite 101s rock.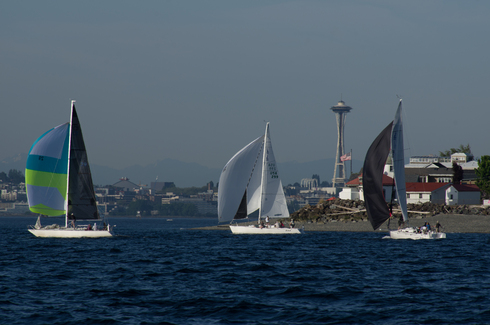 Elixir in the passing lane
Elixir, on the far left, is in the process of passing... yeah, I said that correctly, passing... a couple of J109s. It helps to be in the right place on the course. The boat is owned by Megan and Jarred with Megan driving, I think. (corrections may follow) Megan had a comment that the new kite is so crinkly the crew can't hear what's being said as the sail comes into the hatch. Woo hoo!
We also got a few enticing pics of evenings on the waters around Seattle.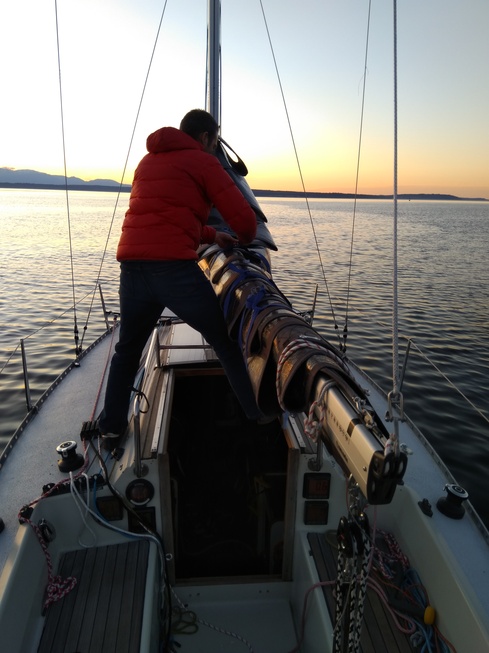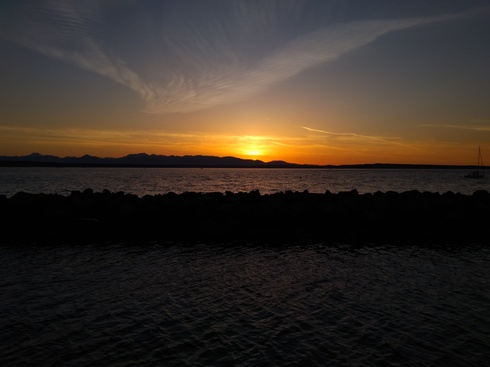 So Honey. Here's my idea: get a double axle trailer and rent a truck, sell the house, drive Averisera out west to spend her senior years with the other Aphrodite 101s and sail year round.