Norm and I have been very neglectful to our blog duties, since we've sold the house in Medford and started on this next phase of our lives, here on Cape Cod. Here is a brief synopsis to catch us all up.
April 26/27 - Open House at Boston Sailing Center. Norm did Saturday on his own. It was a gray, bleak day. I joined him on Sunday and we had a lovely day taking folks out on the harbor for a 20 minute ride.
April 30th - closing date on our 1920's home in Medford. We finally met the buyers. We all enjoyed the closing as we chatted about our history there and their future in the house we had loved. While we were still had business in Boston, we bunked in at Alicia and Stos' house. Thanks for the hospitality and fun times with the grandkids!
May 2- we launched Averisera and brought her around to Piers Park for a brief stay until we could deliver her to Stage Harbor. We brought our remaining stuff with us down to Harwich to stay with Cape Cod Grandma. She and Beatrice were already becoming fast friends.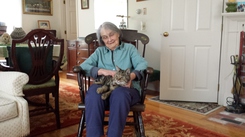 May 7 - We took the Plymouth Brockton bus from Hyannis back to Boston, and headed to Piers Park, to get ready to bring Averisera down to Stage Harbor, her new summer home. After getting our stuff on board, we brought the boat over to Boston Sailing Center, for a final goodbye to Vasiliy and Nelly who had just arrived from Florida.
The view from our slip at BSC -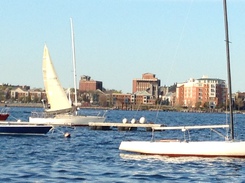 May 8-9 - We stopped at Sandwich Harbor of Refuge the first night. Second day took us almost all the way. As we got closer to HarwichPort, we got a call from Zachary, saying we could pull in for the night. It was probably another hour or so to Chatham from there, but I was COLD and ready to stop.
May 10 - We brought Averisera around from HarwichPort to Stage Harbor. It was pretty foggy and cold early that morning.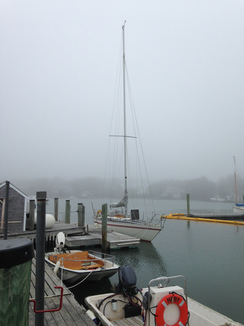 Nantucket Sound was very rough, after several days of strong winds. Zach came along for the ride to Stage Harbor and regretted not having worn his full set of foul weather gear. Averisera doesn't usually ship water, but the chop was nasty and we all got wet.
Entering Stage Harbor -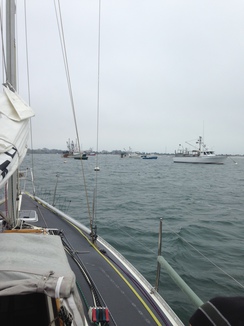 Riding on her new mooring -