We had a fun weekend with good friend, Tom Brown, in Portsmouth NH. The event was based around the J24 District 1 Championship Regatta sponsored by the
Piscataqua Sailing Association
. Elizabeth, Norman, and Tom operated out of a little committee boat named "Chumly." She rolls! Saturday, the fog rolled in as thick as anyone has ever seen it. One race was completed. The second race was cancelled due to fog. Otherwise it was a nice day to be out in a strong Easterly breeze, fog, and drizzle. Perfect New England Spring weather.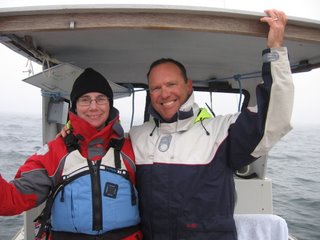 Saturday: Elizabeth and Norman aboard Chumly in the fog off Portsmouth NH. The same day, the Volvo Ocean Race boats departed Boston Harbor in thick fog. The Volvo 70s had to dodge a tanker! District 1 J24s dodged a few rocks on the way in but we were tanker-free. Everyone got home safely.
Sunday, dawn broke with driving rain and a strong Westerly. The rain went away and the wind died off a bit. The sea was not too rough. At least we had visibility. (Thanks to Tom for making a fabulous stack of pancakes. We all stayed at his house in Kittery. On a cold rainy day... Tom's pancakes get top ratings!)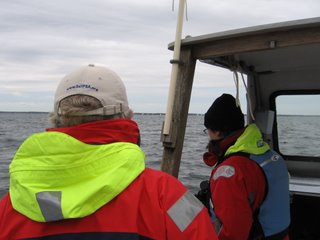 Sunday: Tom and Elizabeth trying to figure out the order of boats coming down the course to finish. Scoring a race is no simple task. Elizabeth has a system. It starts as boats round the top mark, a mile away. E is watching intently, recognizing sails and hulls, sorting out the possible finish order.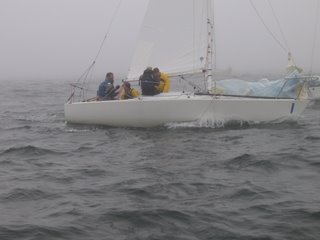 Boston Sailing Center
friends on MOJO, Dave Carlson and team, sailing around in the fog awaiting a Saturday start.
Saturday evening at Kittery point Yacht Club was a nice event. Good food, music, beer and lots of sailing stories. Sunday evening had more sailing stories, food, and beer, plus awards. Competitor Carter White (fourth place on "Al" bow number 9) owns
Regatta Promotions
. They were active in organizing sponsors and club house events. His company did a good job.
Race Committee participation is an important part of any sailor's sailing life.